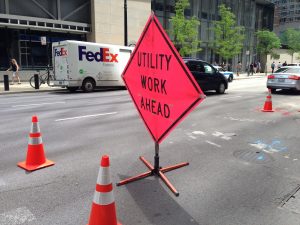 Recently, an appellate court issued an opinion hinging on a governmental immunity defense in an Illinois negligence lawsuit. The case arose after a construction worker fell and suffered severe career-ending injuries during a project.
The construction worker was assigned to a project after a Chicago water reclamation plant entered into a contract with a construction company for the removal of certain facilities. The government agency and construction company entered into an agreement that included provisions regarding acceptance of plans, and responsibility for the safety, maintenance, and repairs of the project.
The construction worker's wife filed a lawsuit against the government district, alleging claims including construction negligence, loss of consortium, and willful and wanton construction negligence. The plaintiff argued that the district exhibited a conscious disregard and indifference for the construction worker's safety.
She claimed, amongst other issues, that the government's on-site engineer failed to meet necessary equipment for water site control and knowingly failed to monitor work activities. Specifically, she argued that the government did not provide an appropriate two-ladder configuration, which resulted in her husband's fall and subsequent injuries. In response, the governmental agency asserted protection under the Tort Immunity Act.
The Illinois Tort Immunity Act (the "Act") provides what circumstances a governmental agency can face liability for negligence. Generally, the Act immunizes local governmental entities from liability for injuries arising out of its employee's acts or omissions when the action arises out of policy decisions and exercising discretion.
In this case, the defendant argued that they were immune from liability because decisions regarding the two-ladder configuration was a discretionary one. However, the Act requires that government defendants who wish to assert this defense provide evidence that the decision was discretionary.
Here, the defendant did not support its defense with any evidence that its employees made discretionary decisions regarding ladder configurations. Moreover, seven witnesses testified that no District employees weighed in on or addressed worksite safety decisions.
Ultimately, the court found that the government defendant was not immune from liability for the injuries that the construction worker sustained.
Have You Been Injured as the Result of a Negligent Governmental Entity?
If you or a loved one has experienced severe injuries because of the negligence of an Illinois governmental employee or entity, you should contact the experienced accident attorneys at Abels & Annes, P.C. The attorneys at our law firm understand the unique challenges that lawsuits against the government entail.
We have extensive experience handling the barriers that these types of cases present and have recovered substantial sums of compensation on behalf of our clients. Compensation in Illinois injury cases often includes payments for past medical bills, ongoing medical expenses, property damage, loss of consortium, and pain and suffering.
Chicago construction accident cases require a thorough and extensive understanding of complex legal theories, and Illinois injury victims should retain an attorney to represent their interests. Chicago injury cases, especially those involving governmental entities, require the assistance of dedicated and experienced accident attorneys.
Contact our office at 312-924-7575 to discuss your rights and remedies with a skilled Illinois personal injury attorney.